Tuition
Tuition is $4900 per year. A nonrefundable tuition deposit of $900 is due at the time that your application is accepted. For the months of August through March, a payment of $500 is due at the beginning of each month. The tuition includes the cost (for the student) of field trips taken throughout the school year. The only additional expense is general supplies (notebooks, pencils, colored pencils, etc.).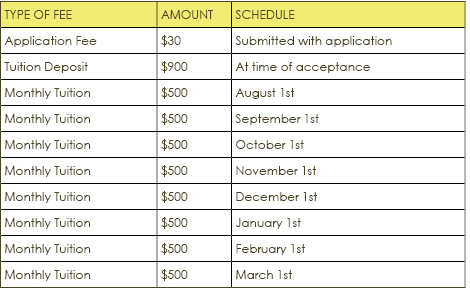 To find out more about tuition assistance, visit the North Carolina State Education Assistance Authority (NCSEAA) website. There you will find information about their Opportunity Scholarship (voucher program) and their Disability Grant. If you child has an IEP or a 504 Plan, he/she may be eligible for the Disability Grant. The Opportunity Scholarship is income-based.
Program Overview – Voucher Program
Opportunity Scholarship Application
Program Overview – Disabilities Grant

Important Dates:
Opportunity Scholarship Application Deadline 3/1/17
Disability Grant Application Open 5/1/17
Additional Tuition Assistance:
Find out more about our CO-OP PROGRAM!
Find out more about our SPECIAL TALENT SCHOLARSHIP PROGRAM!